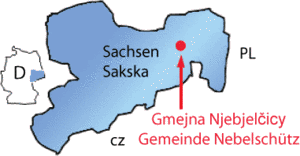 The municipality of Nebelschütz with its 5 districts is in an exposed location directly on the S 100, between Kamenz (3 km) and Bautzen (20 km). The A4 motorway (Dresden-Bautzen) can be reached quickly and easily with the Uhyst and Burkau junctions after about 7 and 10 km, respectively. The S 102 motorway slip road (Ruhland-Burkau), which is currently under construction, will connect the Nebelschütz community to the important north-south motorway axis A13 (Dresden-Berlin).
Via the Görlitz border crossing on the A 4, you can quickly reach Poland after 70 km or 40 minutes on the motorway. The municipality of Nebelschütz is connected to the other EU neighboring country, the Czech Republic, via various border junctions after around 70 km.
Dresden-Klotsche Airport is about 40 km or 30 minutes by car from the municipality of Nebelschütz. From the airport you can take the S-Bahn to the ICE train station Dresden-Neustadt in about 10 minutes. From here, other S-Bahn trains run to Kamenz every hour. Regular buses connect the Kamenz bus station with Nebelschütz.
History of the districts
The history of the five districts Nebelschütz (Njebjelčicy), Wendischbaselitz (Serbske Pazlicy), Miltitz (Miłoćicy), Piskowitz (Pěskecy) and Dürrwicknitz (Wěteńca) can be documented until the early 13th century (1225). The proximity to the St. Marienstern Monastery, founded in 1248, resulted in close political, economic and cultural-historical ties.
Stately three-sided courtyards, beautiful cottages and Christian monuments characterize the rural community area. The most impressive buildings are the parish church in Nebelschütz and the former manor in Piskowitz.
The Jauer (Jawora) stream meanders through Miltitz and Nebelschütz. It was dammed up between the two districts to form a considerable reservoir, which served anglers as an ideal hunting ground. However, this has been drained since 2005.
Sports centers form the sports area in Nebelschütz and the beautifully situated forest sports field in Piskowitz. Both facilities are used and managed by two active sports clubs. The strongest community club is the Sportgemeinschaft Nebelschütz e.V. (Sportowa jednotka Njebjelčicy z.t.) with 7 men's soccer teams.
In all parts of the village, numerous associations and individuals strive for active village life. Most of the time they act in the background. But they are an indispensable basis for a peaceful and content village community.